Helping students navigate their undergraduate experience
The Major Maps Project supports UC Berkeley's goal of improving the undergraduate student experience by providing a resource for students to find academic, co-curricular, and discovery opportunities in their majors and on the broader campus.
This resource—major maps— features experience maps that help matriculated students navigate their UC Berkeley undergraduate journey based on their intended major or field of interest. Prospective students who have not yet enrolled at Berkeley may use major maps to aid them in their decision to attend the university and which majors to pursue.

Staff and faculty who support students can use major maps to guide their advising conversations and help students develop plans of action to achieve their Berkeley goals. High school, community college, and UC Berkeley counselors and admissions staff will also have access to major maps to help advise prospective Berkeley students. Parents, guardians, families, and others who provide support to prospective and current students will also benefit from major maps.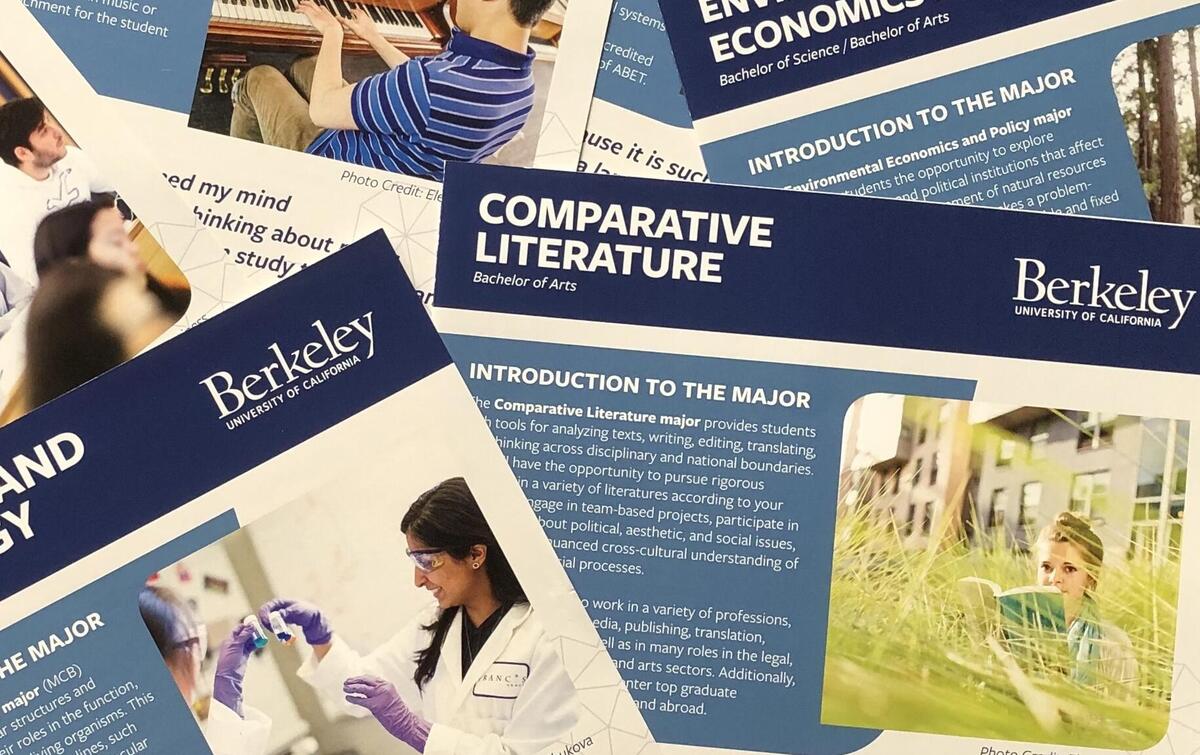 About the Project
The Major Maps Project launched in fall 2018 with the aim of producing a major map for each of the nearly 100 undergraduate majors at UC Berkeley. With sponsorship from Vice Chancellor for Undergraduate Education Catherine P. Koshland and Vice Chancellor for Student Affairs Stephen C. Sutton, a project team was formed and a staff advisory group was convened to guide the development of map content and design.
The major maps project team created map prototypes, which were tested with the advisory group and with the Student Advisory Council for Undergraduate Education (SACUE). Production began in spring 2019 with a pilot set of maps from the most popular undergraduate major programs. The initial set included at least one major from each undergraduate school or college, at least one major from each division in the College of Letters & Science, and one foreign language major.
In partnership with academic departments, the major maps project team has produced maps for 93 majors to date and is working to complete four-year maps for all undergraduate majors. Simultaneously, the project team has begun work on a transfer student major map concept.
For more information or questions about the Major Maps Project, email major-maps@berkeley.edu

Major Maps Project Team
Anthony Yuen, Project/Policy Analyst and Project Lead
Angelica Montiel, Visual Communications Assistant
Daniela Pardo Duran, Visual Communications Assistant
Isabella Pang, Visual Communications Assistant
Lewana Su, Visual Communications Assistant
Livana Hill, Visual Communications Assistant
Pao Diaz, Visual Communications Assistant
Major Maps Advisory Group
Juliana Golden, Office of the Registrar
Larry Jackson, Career Center
Lorena Valdez, Transfer Student Center
Mecca Shakoor-Cook, Letters & Science Advising
Sean Burns, Center for Undergraduate Discovery
Stefan Montouth, Office of Undergraduate Admissions